OceanTrack - The World's Sea and Marine Traffic in the Palm of your Hands.
The universal iPad, iPhone and iPod companion for marine navigation and traffic awareness offshore.
OceanTrack is the ultimate marine navigation app for iOS, providing real time instrument reading, AIS traffic and passage information. With worldwide built-in map coverage, the ocean is the limit. Traffic awareness features allow you to stay safe and sail safely whether you're entering a busy shipping lane or sailing in the middle of the Pacific without Internet connectivity.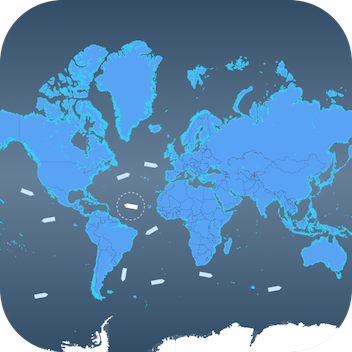 Developed and tested on a real sailing vessel, OceanTrack makes use of a combination of the device's internal GPS and Compass sensors to provide instant data on current position, speed over ground, course and heading, plotted on a stylish navigation Display.
With Cloud AIS, providing you have Internet connectivity and there is land AIS coverage, OceanTrack comes with complimentary AIS information based on aishub.net data with thousands of ships sailing around the world at any given moment. See ships anywhere and tap on them to discover who they are, how far they are or where they're going.
Through NMEA, OceanTrack can also connect to your boat's systems via an NMEA-to-WiFi bridge / server, collect real-time data from multiple onboard sensors, AIS receivers, and display accurate information on position, boat speed, depth below keel, wind speed and direction and surrounding marine traffic amongst other things.
OceanTrack includes an advanced Multi Function Display and Map (MFD) with:
✓ GPS Position Information
✓ Speed Over Ground, Course Over Ground, Heading
✓ Speed over Water, Depth Below Keel
✓ Apparent and True Wind Speed and Direction
✓ Beaufort Scale Estimation on screen
✓ DTW, BTW, XTE and VMG when next waypoint is available
✓ Dynamic zoomable range
✓ Built-in moving map for use when offline and offshore; the whole world is included, no need to download it
✓ Plotting of AIS targets including ships, navigation aids, shore stations and Search and Rescue (SAR) aircrafts
✓ On-Map measurement of range, bearing and ETE at current speed to any point
✓ AIS info including Name, MMSI, SOG, COG, RNG, BRG
✓ Advanced calculation of CPA and TCPA to any AIS ship
✓ Selection of rhumb-line (loxodromic) or great-circle (orthodromic) navigation
✓ Mercator Projection
✓ Various unit selections and display formats
✓ Portrait and Landscape orientations on iPad

access to onboard instruments with:
✓ An NMEA decoder to interface with onboard AIS receivers ✓ NMEA on TCP and UDP interfaces
✓ NMEA support for VDM, RMC, GSA, GSV, GLL, VTG, GGA, HDT, HDG, VHW, DBT, DPT, MWV, MTW and RMB sentences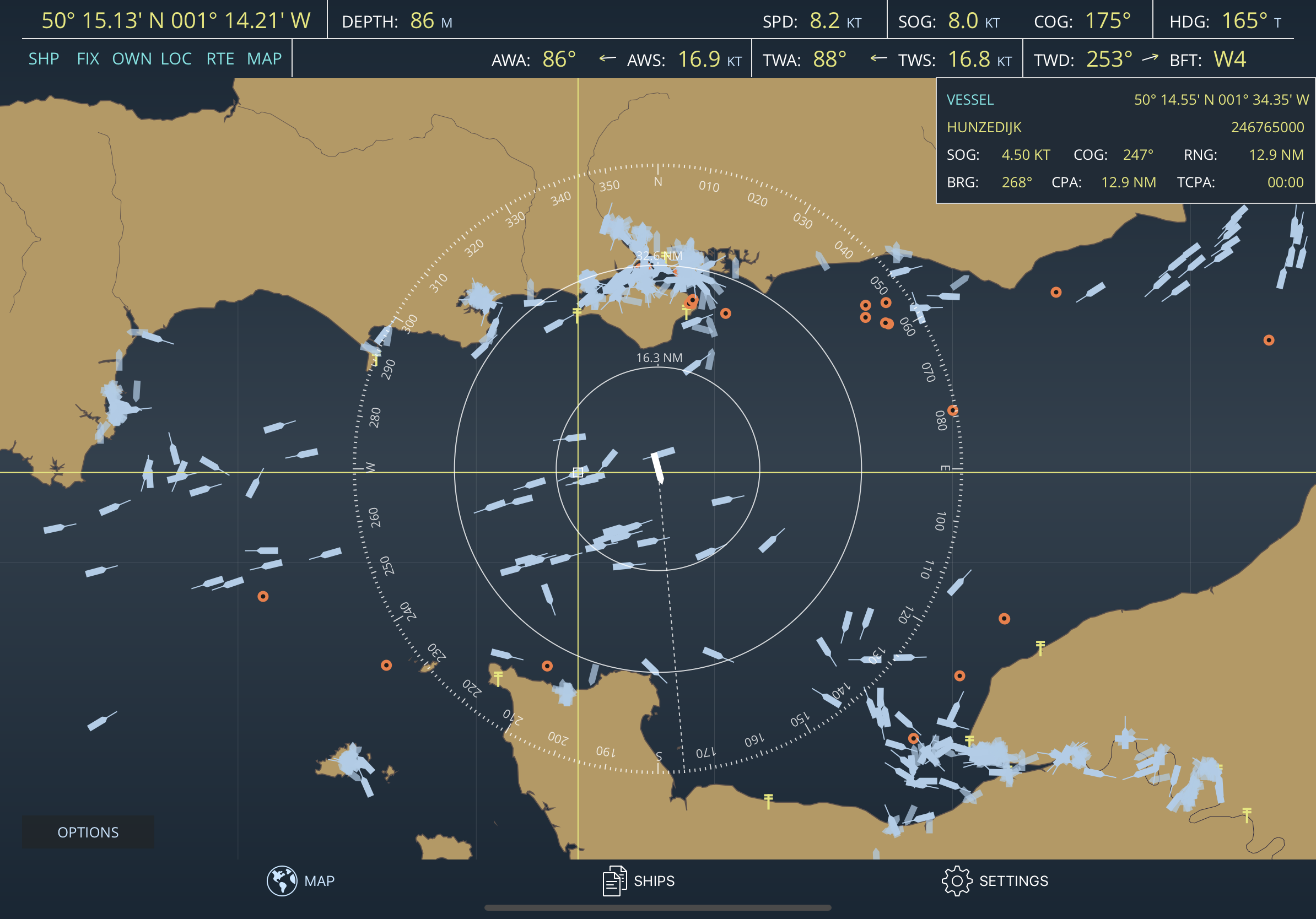 and an AIS engine with:
✓ List of all surrounding AIS vessels sorted by distance
✓ Detailed AIS information on vessels including all static and dynamic performance indicators (MMSI, position, SOG, COG, country, dimensions, ...)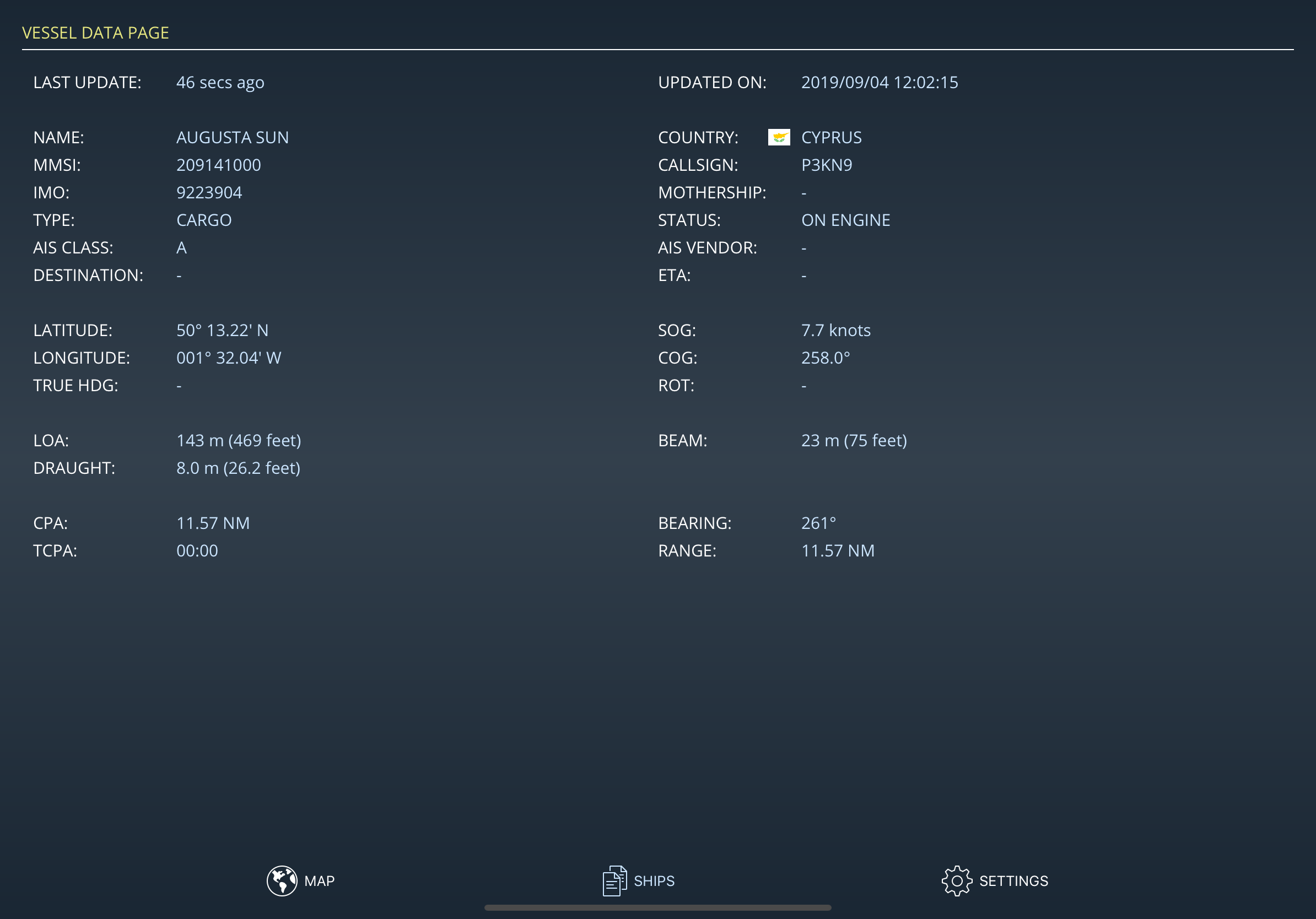 Requirements:
OceanTrack is iOS only and universal for any iPad, iPhone and iPod touch running iOS 9.0 or later. Sadly, due to its architeture and development platform, Android isn't currently supported.
In order to use the device as a source of position and heading, the device should be a cellular model as the WiFi only models don't have a built-in GPS. Alternatively, WiFi only models can be used with NMEA-to-WiFi data.
To access onboard instruments and surrounding AIS traffic (other than cloud AIS which has limited coverage and requires Internet connectivity), OceanTrack requires a WiFi network, an NMEA to WiFi server and the NMEA Connector inApp purchase. Most modern plotters provide this bridging and WiFi funcionality nowadays but should they not, NMEA to WiFi adapters can usually be installed separately to provide access.
OceanTrack must be able to access messages either through a TCP connection to an existing NMEA server or by listening on a UDP port. OceanTrack can be configured either way and in both ways simultaneously.
Next topic:
Data and Map