AirTrack Classic - The original app, now over 13 years old, for the iPad and iPhone
We are proud to present AirTrack, the ultimate iPad/iPhone universal application that integrates with multiple data sources in order to report flight and navigation data wirelessly and in real time.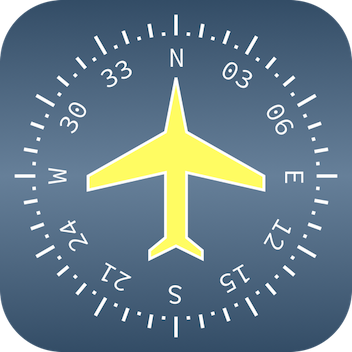 Designed to integrate with a flight simulator, with the aid of a plugin this application allows you to track and control your flights in real-time in the palm of your hand.
You no longer need to stay glued to the computer in order to know if you're still flying at 39,000 feet, if you're still heading to the right waypoint, how long you've got left or what the weather is going to be like at your destination airport; you can now relax and do it in the garden while you read the newspaper. With its built-in database of FIX, VOR, NDB and Airports, AirTrack can also be used as a flight companion allowing you to plan and monitor your trip, target a VOR or even perform a full IFR approach without ever needing to look at the screen. The remote control features allow you to use your device as a joystick to control the simulator, to control its auto-piloit with an MCP, to send flight plans and to tune the radio stack. But if this isn't enough, AirTrack can also use your device's built-in GPS to determine your current movements and the Internet to download real weather to simulate an aircraft's sensors. Turn your car trip into a flight experience by getting information about your instant position, heading and surrounding waypoints. See yourself in an EFIS style navigation display or plan your multi-leg trip with the built in route planner FMC which gives you real-time information about your waypoints, how far away they are and how long it will take you to reach them and simulating as if you were on a plane.
The AirTrack features include:
A Primary Flight Display (PFD) with:
Speed
Altitude
Vertical Speed
Barometric pressure
Outside Temperature
Compass
Attitude Indicator with roll and pitch
Auto-Pilot status and settings
Instant GS, IAS, MACH, and VS when available
Flaps deployment and landing gear state
Movement sensing remote control of the aircraft
Support for iphone/ipod 4 built-in gyros to control the rudder / yaw
A Multi Function Navigation Display (MFD/ND) with:
APP, VOR, MAP and PLN modes
Centered and expanded views
Display of APT, WPT, VOR, NDB, CWP and LOC
Wind speed and direction indicators
True Air Speed and Ground Speed
Next waypoint reporting
Flight plan display
Course control from NAV1, NAV2 or FMC
ILS / VOR approach course helpers
Runway and localizer orientation drawing
VOR/ADF selector
VOR/NDB guidance bugs according to NAV/ADF
Next waypoint mode selector (NAV1/2, FMC)
Tracking in MAP mode
Display of the world border and coast lines as a background map
Rate of Turn display with the snake and 30, 60 and 90 secs predictions
A Mode Control Panel (MCP) that interacts with the simulator's auto-pilot with :
HDG, IAS/MACH, OBS1, OBS2, ALT, VS and BARO dialers
AT/ARM, SPD HOLD, HDG HOLD, N/1, C/O, LNAV, LOC, APP, LCH, ALT, VS, VNAV and AP CMD hold switches
A Flight Management Computer (FMC) with:
Multi-Mode, Multi-Leg flight planner
Reported distances per waypoint
Time remaining / elapsed per leg
Position Reports for Oceanic
Flight Statistics with progress and ETA
Runways and localizers
Basic SID and STAR decoding for airports
Enroute airways decoding
Cloud based syncing of flight plans across devices
Plus:
Full radio stack with NAV1/2, COM1/2, ADF1/2
Transponder dial and auto-transponder mode
Customizable waypoints
My waypoints and Nearby waypoints
Real-Time weather information for airports
Detailed airport information including runways
VOR ad NDB class, range, frequencies
A database of over 100,000 localities worlwide
Built-in database of FIX, VORs and NDBs
Cloud based syncing of waypoints across devices
Support for NAVIGRAPH FMS AIRAC cycles
Tracking of VATSIM surrounding traffic
Display of online VATSIM controllers
Electronic Flight Bag style interface for iPad
Enhanced graphics with high-res Retina Display
Approach charts viewer
And much more ...
These are just a few of the things that you can do with AirTrack; and if they aren't enough, be assured that this is just the beginning. We have a lot more in stock to introduce in future versions, just stay tuned! Next topic:
Downloads