Products
AirTrack NG is distribuited as a free app on the App store, for Mac, iPad and iPhone. It comes with a trial period after install during which all features are available to try for free. When this trial period finishes some panels and parts of AirTrack will remain free, while others may required a purchase.
For those requiring a purchase, in general all static panels are available either a a buy once - use forever product option, or as part of a renewable subscription. All subscriptions are either one time or can be canceled or upgraded anytime before expiry.
Standalone Boeing Instruments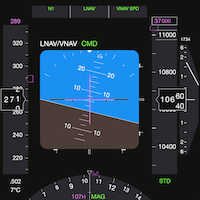 This is currently a Buy Once - Use Forever Product inApp purchase, comprising access to every functional panel of AirTrack NG. It is equivalent to buying the app as it is and unlocks access to the PFD, ND, MCP, RADIO and FLIGHT PLAN panels. While it will include future Boeing related updates and new Boeing panels, it will not include other categories of panels to be made. It also doesn't include access to dynamic periodic content such as the US Charts and Data.
AirTrack Unlimited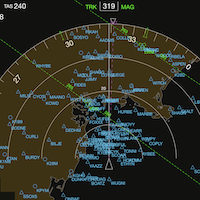 This is currently a recurring inApp purchase subscription with different renewal periods as option. It grants access to everything in AirTrack NG, including dynamic periodic content, and will grant access to every panel to be developed and released in the future too at no extra cost.
Subscribing also encourages us to keep developing new features and panels for existing products and keep them up to date.
US Charts and Data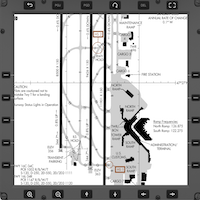 This is also a renewable subscription which grants access to dynamic and periodic content published updated every 28 days's AIRAC cycle and that covers over 5GB of Airport Charts and Navigation Data for the US Territory seamlessly processed and made available to the app from our cloud servers.
Note that AirTrack Unlimited already includes access to this so do not purchase this subscription it you have or intend to have Unlimited.
The Road Map
AirTrack NG was build with expansion in mind; it's design architecture allows it to be expanded endlessly through the means of new panels, features and interfaces. The following are some of the things expected to be developed following the current release which will required a purchase:

Standalone Airbus Instruments
Standalone Garmin Instruments
Standalone [You Name It] Instruments
EFB Taxi Map
A World Moving Map Panel with ATC data
Standalone Simulator Logic
Operational Checklist Panels
CDU Integration in AirFMC style
Support of new Data Sources and Interfaces
Integration with various online services
A Terrain Radar with VSD panels
Improved weather model and WXR adar
Personal Flight Logbook

Which add-ons will see the day of light first greatly depend on our user's wishes, so please get in touch and tell us what you'd like to see next or suggesting new things. The most voted options will be prioritized. You can rech us through email via Support or directly on chat via Discord.

Next topic: Downloads